SpeakEasy Launches, Lowering Cost Barriers for Campaigns
SpeakEasy Political leverages tech to make it cheaper and easier to communicate with voters 
San Francisco, CA – SpeakEasy Political, a new startup that uses a template-based system to help candidates and causes move direct mail, will hold its launch party on Thursday, January 21 at 6:00 PM.Press is welcome to attend.
WHEN: Thursday, January 21 from 6:00 PM to 8:00 PM (PST)
WHERE: 743 Clementina St., San Francisco, CA 94103
RSVP: HERE
In 2012, the last presidential election, the US Postal Service moved 2.8 billion pieces of political mail. Those pieces conservatively represent a $1.1 billion dollar market, and almost all of them were custom designed – an expensive process that prices the majority of campaigns out of the game. SpeakEasy is disrupting the marketplace by offering templates – pieces of direct mail that have already been designed by a consultant and a graphic designer – for a fraction of the cost. SpeakEasy includes premium data targeting and handles the printing and mail house components, using economies of scale to lower prices even more.
Watch the video here.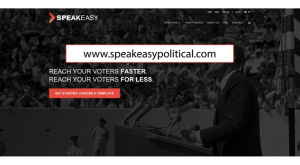 During its beta phase, SpeakEasy was used by over 20 candidates and groups, including the Oregon House Democrats, the LA County Labor Federation and individual candidates running for office across California. This past November, every candidate who used SpeakEasy won their election.

"I used SpeakEasy to send out a piece of professional quality mail for far less than I would have spent with a consultant – and I won my race by just 45 votes. SpeakEasy is a great tool for smaller campaigns looking to move their message."

– Jeff Slavitz, Richardson Bay Sanitation District Member

SpeakEasy was founded by Eric Jaye, a San Francisco-based political consultant and the owner of Storefront Political Media; Bergen Kenny, a political consultant and national campaign operative; and Danielle Winterhalter, a political consultant and west coast operative. Together they built a platform that puts the candidate in the driver's seat, allowing them to create, target and move their mail on their timeline and for less.
With the launch of our new product, The Brand Studio, SpeakEasy has expanded our toolkit to help candidates and causes across the country create beautiful, professional campaign logos and brands. This product gives you a campaign logo, brand guide, fonts, and graphics optimally sized to share on social platforms and
Read More »
As campaigns around the country ramp up for November 2022, now is the perfect time to brush up on your political jargon — and Team SpeakEasy has got your back! Here's a quick roundup of resources that will bring you up to speed on the lexicon of political advertising. From digital
Read More »