Smart candidates follow the money –
it almost always leads to victory
Here is the hard truth – the candidate that excels at campaign fundraising almost always wins – as in 91% of the time in Congressional races, and even more often in down-ballot elections.
It isn't just that more money means more ways to drive your message, although that certainly helps. Raising an army of donors means a campaign is generating an army of validators, volunteers and supporters willing to amplify your message.

Because money matters, particularly from the kind of online donors who can help you expand your reach, we've created a new library of digital fundraising ads you can deploy to kick your online fundraising into high gear.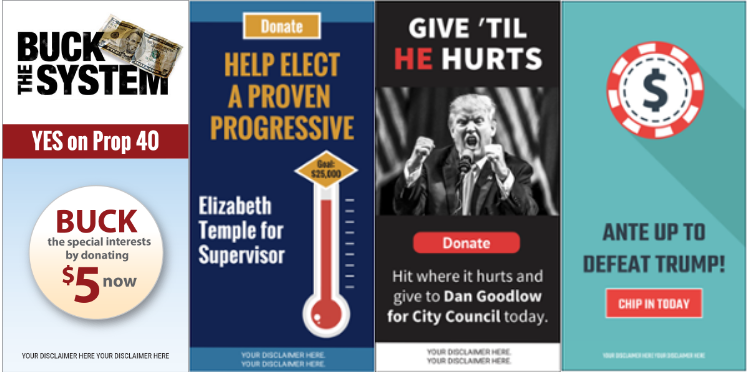 At SpeakEasy Political our mission is to help Democratic candidates and causes win campaigns. Since organizing donors online contributes so mightily to a successful campaign effort – we want to make sure you have the tools you need to succeed.
You can check out our online fundraising ads right here. Or if you would like to chat with someone from our team for help setting up your program – simply email [email protected] with your contact information and we will reach out to schedule a call.
More money raised will make a difference in your campaign, it means:
One more district-wide mailer
Another targeted or issue-based mailer
Increasing your digital buy so more voters hear from you
Another walker or paid staffer who can help you organize support and drive turnout
The vital billboard, lawn sign, or other visibility that drives name ID
Or any one of many tools that could make the difference between victory and defeat
At SpeakEasy Political we know that real change starts with changing who can run and win. Arming first-time candidates and challengers with smart fundraising tools helps those candidates win – and in a real way, helps improve the political system awash in big money.
Fight big money now – with small dollar fundraising tools. We're standing by to help just email us at [email protected].
With the launch of our new product, The Brand Studio, SpeakEasy has expanded our toolkit to help candidates and causes across the country create beautiful, professional campaign logos and brands. This product gives you a campaign logo, brand guide, fonts, and graphics optimally sized to share on social platforms and
Read More »
As campaigns around the country ramp up for November 2022, now is the perfect time to brush up on your political jargon — and Team SpeakEasy has got your back! Here's a quick roundup of resources that will bring you up to speed on the lexicon of political advertising. From digital
Read More »